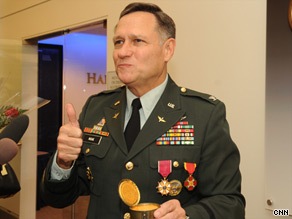 CNN
and others are reporting that a retiring Army Colonel, Henry Moak, opened and ate a Vietnam War-era army ration can of pound cake at his retirement ceremony.
A 36 year old Can of Pound Cake.
WITH A CEREMONIAL SWORD.
"To most people's surprise, the opened can revealed a still-edible yellow cake. The ceremonial sword used to cut Moak's real retirement cake was also used to dig into the can and cut out the cake.

Moak took a bite and put up his thumb, "It's good, it's still kind of moist," he declared."
Already having served his country until retirement, Col. Moak took things to another level here. I am not a scientist, so I don't understand how any product with eggs in it wouldn't be deadly 36 years later. What happens inside a can that is properly sealed for the battlefield? Apparently time stands still, is what happens.
When I was a kid, in the early 80s I went through an "army phase" - I had old army clothes and toy machine guns, and liked to run around in the woods pretending. Once, my mom took me by Brock's Army Surplus and I bought a set of rations, which included pork-n-beans and pound cake. They were good then, but they may have been less than ten years old then. And I never ended up joining the Army.
Can you say that you've ever eaten an antique?